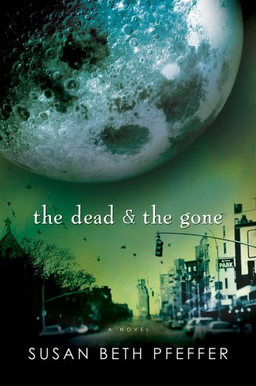 The Dead and the Gone is the second book in The Last Survivors series.The author is Susan Beth Pfeffer. This book was released Oct 5, 2008
Summary:
Edit
WHAT I KNOW:
No subways
Floods
Moon closer to Earth
Carlos all right
Bri and Julie all right
School on Monday
WHAT I DON'T KNOW:
How long it will take for things to get back to normal.
Plot Synopsis
Edit
The end of the world all started at Joey's Pizza Parlor, where 17 year old Alex Morales is working for a customer. The customer briefly recognizes him, and mistakes Alex for his brother in the Armed Forces, Carlos. Alex tells the stranger that he is indeed, not, Carlos. The stranger, introduced as Mr. Dunlap, tells him that he needs some work on his plumbing, in which we find out that Alex's father, Mr. (Luis) Morales, is away at a funeral in San Juan, Puerto Rico.
The Praise
Edit
"The powerful images and wrenching tragedies will haunt readers." -- Publishers Weekly
"It transcends it premises with terrifyingly well-imagined and superb characterization. The story's climax and resolution feel achingly right." -- John Green, The New York Times
Detailed Plot Summary
Edit
Coming soon.